My vintage or classic 1965 Triumph 350
Well the Triton got held up as I aquired a 1997 Triumph Daytona 595i which needs a bit of TLC. She came from the Isle of Man and was in a sorry state. She`d been under a cover in a back yard for about three years.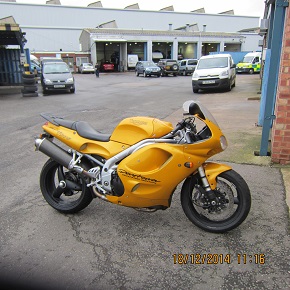 She went straight onto the bike bench and two hours later when I`d tried to start her she was stripped down to engine and frame. A new set of spark plugs, a new petrol pump, battery and she fired up again for the first time.
After a few evenings work on the bodywork she is starting to look better. The original bars were fitted back on, a service, a new front tyre, new mirrors and she went for an MOT. She showed a few shakedown problems but is now running a treat.