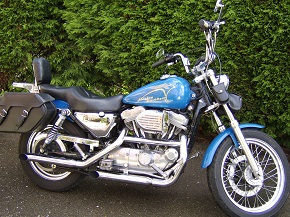 My 1997 Sportster. She's the only bike I've had from new and is my favourite ride. She started life as a 883cc XLH, but soon started to change. She is now a 1200cc with a Kuyrakin Hypercharger, Screaming Eagle ignition, K&N filter and freer flowing pipes. I have also fitted a Sports Fatbob tank and rear mudguard, higher bars, and forward controls. Recently she was treated to mag wheels and billet brakes with braided hoses.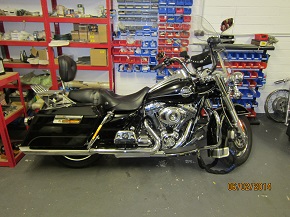 My 2009 RoadKing Classic. I aquired her in 2011 and she's stayed fairly standard, for me. She's a 16600cc with ride by wire and electronics. An ideal ride for the longer distances and with the trailer on, a rally weekend is comfortable now.
She had a stage 1 when I got her and all I've done so far is fit hard luggage, higher bars, braided brake hoses and a detachable tow hitch.